Sport is a dynamic gateway to holistic well-being and personal development. For women, the impact is especially profound as sports empower them to break societal norms, fostering strength and resilience. While the physical benefits of sports are many and well-documented, the mental and emotional benefits are just as significant. Participating in sports cultivates discipline, focus, and strategic thinking, essential skills applicable in both personal and professional realms. Emotionally, the camaraderie forged in the arena promotes self-esteem and also provides a support network crucial for navigating life's challenges.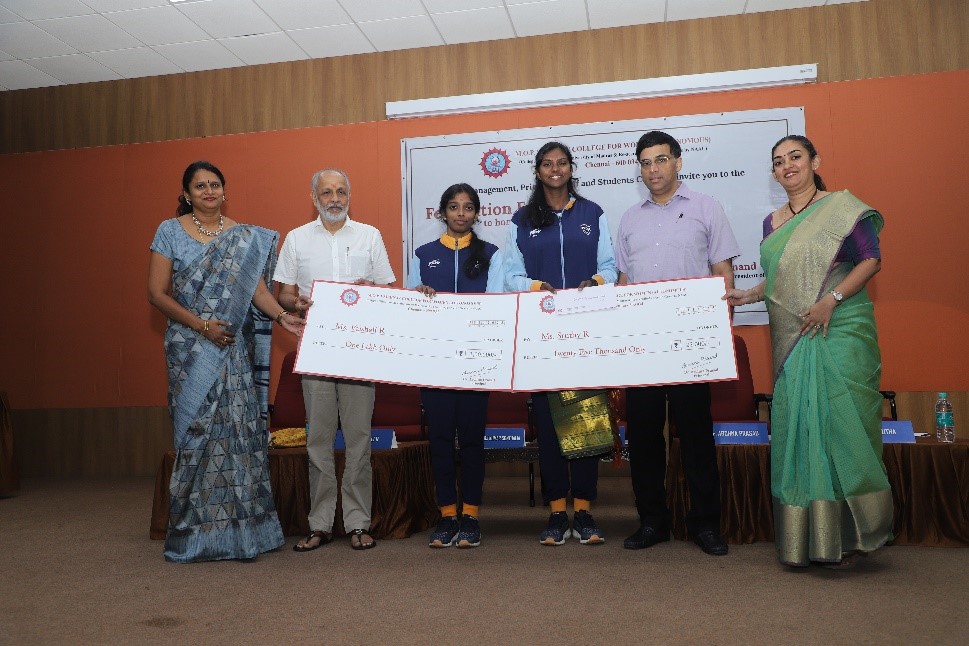 In the realm of higher education, sports serve as an invaluable avenue for personal development. M.O.P. Vaishnav College for Women recognizes the tremendous value of sports in enriching the learning experience, and has instituted encouragement of sports and support to athletes and sports students as a core policy since its earliest days. The policy of nurturing and empowering student-athletes has ensured that the institution has representations in 28 sporting categories, and has produced hundreds of international-level sportswomen. Two such young women, Vaishali R. and Sruthy R., who are currently postgraduate students of M.O.P. Vaishnav College, have represented the country in the recently held Asian Games in Hangzhou, China in September and October 2023. Vaishali, a FIDE
Woman Grandmaster and sister of the chess prodigy Grandmaster R Praggnanandhaa, secured the silver medal in the women's team category, while her brother was instrumental in helping the Indian men's team achieve silver in their category as well. Sruthy R, a member of the institutional basketball team, represented India in basketball. In recognition of their phenomenal achievements, the college organized a felicitation ceremony in their honour on 10th November, 2023, with five-time World Chess champion and deputy president of FIDE, Grandmaster Viswanathan Anand, presiding over the occasion as the Chief Guest. It was an emotional moment for both Vaishali and Sruthy as they relived their respective journeys and associations with the institution.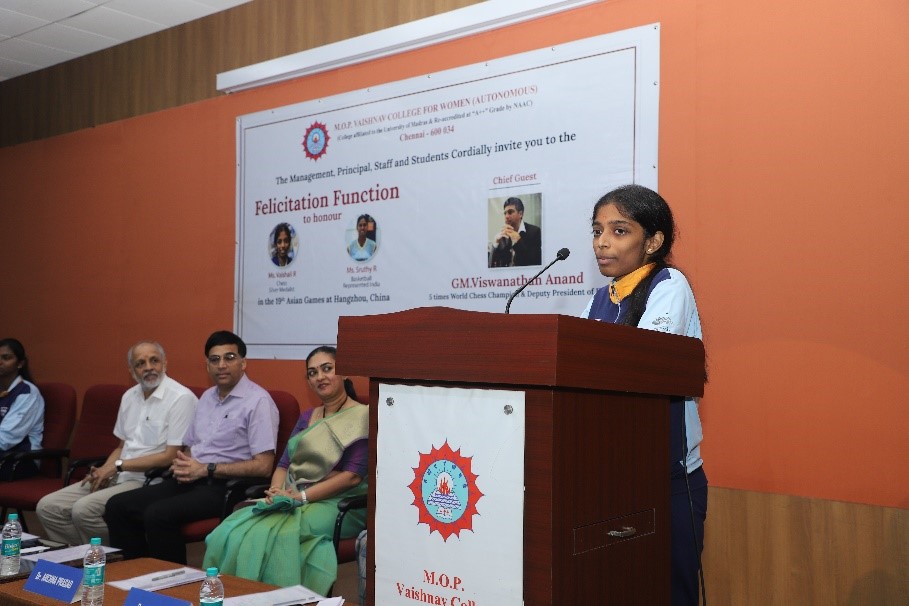 That both young women chose to continue their postgraduate studies in M.O.P. Vaishnav College for Women – Vaishali in M.A. HRM and Sruthy in M.A. Public Policy – after having been students of the institute in their undergraduate programs as well – B.Com Corporate Secretaryship and B.A. Sociology respectively – is a testament to the unconditional encouragement and backing of the institution's management and the director of physical education's unwavering commitment to nurturing and mentoring young sports talent.
As GM Viswanathan Anand observed, the support of one's teachers plays a vital role in a sportsperson's growth, and this support towards all the young talents that join the institution is what has allowed M.O.P. Vaishnav College for Women to create a niche for itself even amongst the premier higher education institutes in the country. The greatest strength of an educational institution is its student community, and the college recognizes this, ably supports its young talents in identifying and fostering their passions, and celebrates their achievements with tremendous pride.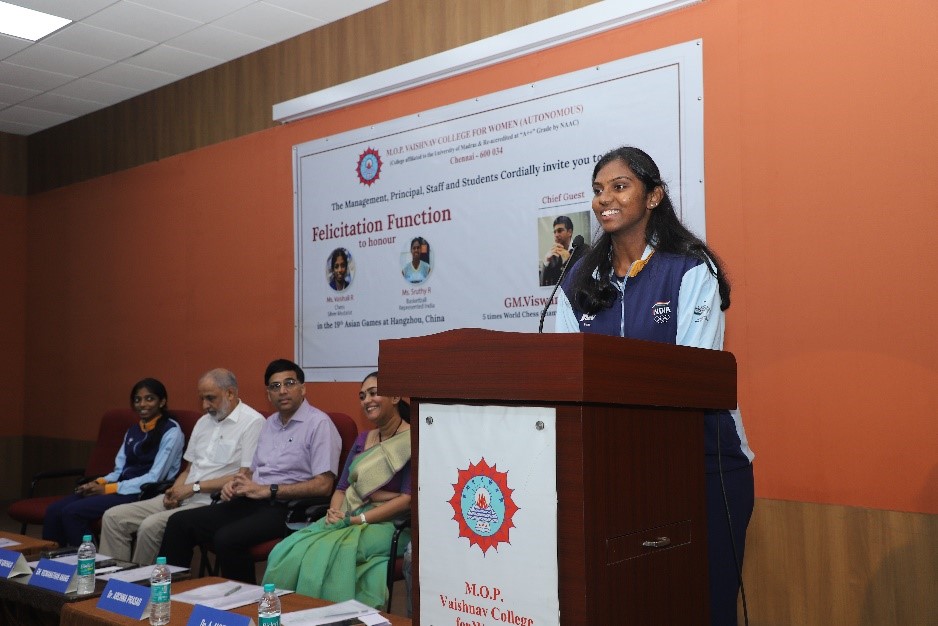 Engaging in sports is a catalyst for personal development and empowerment, a transformative journey that extends beyond the field or court. Whether it's chess, basketball, or any other sport, the lessons learned in competition resonate deeply, moulding character and fortitude. Through victories and defeats, individuals cultivate resilience, learning to overcome obstacles and adapt to unforeseen challenges. Moreover, sports foster teamwork, and the understanding that behind the success of an individual is the combined effort of a group.
This truth was never more evident than when Sruthy, in her address during the event, shared her gratitude to her teammates, acknowledging their roles in her journey to represent India. Sports also teaches us the importance of communicating, for it is through communication that we both learn and share our knowledge with others. Communication is essential for any team sport, and this was brilliantly demonstrated by both Sruthy, and by Vaishali as she guided her team to silver at the Asian Games.
Teamwork and communication skills are the bedrock of effective leadership. For young minds, the arena becomes a training ground for self-discovery and confidence-building. As athletes navigate the highs and lows of athletic pursuits, they develop a profound understanding of their strengths and weaknesses. This self-awareness becomes a powerful tool for personal empowerment, shaping young leaders who are not only adept on the playing field but also equipped to navigate the complexities of life with determination and grace. In essence, sports serve as a dynamic classroom for leadership, instilling values and skills that transcend athletic achievement, and laying the groundwork for impactful contributions in various walks of life.