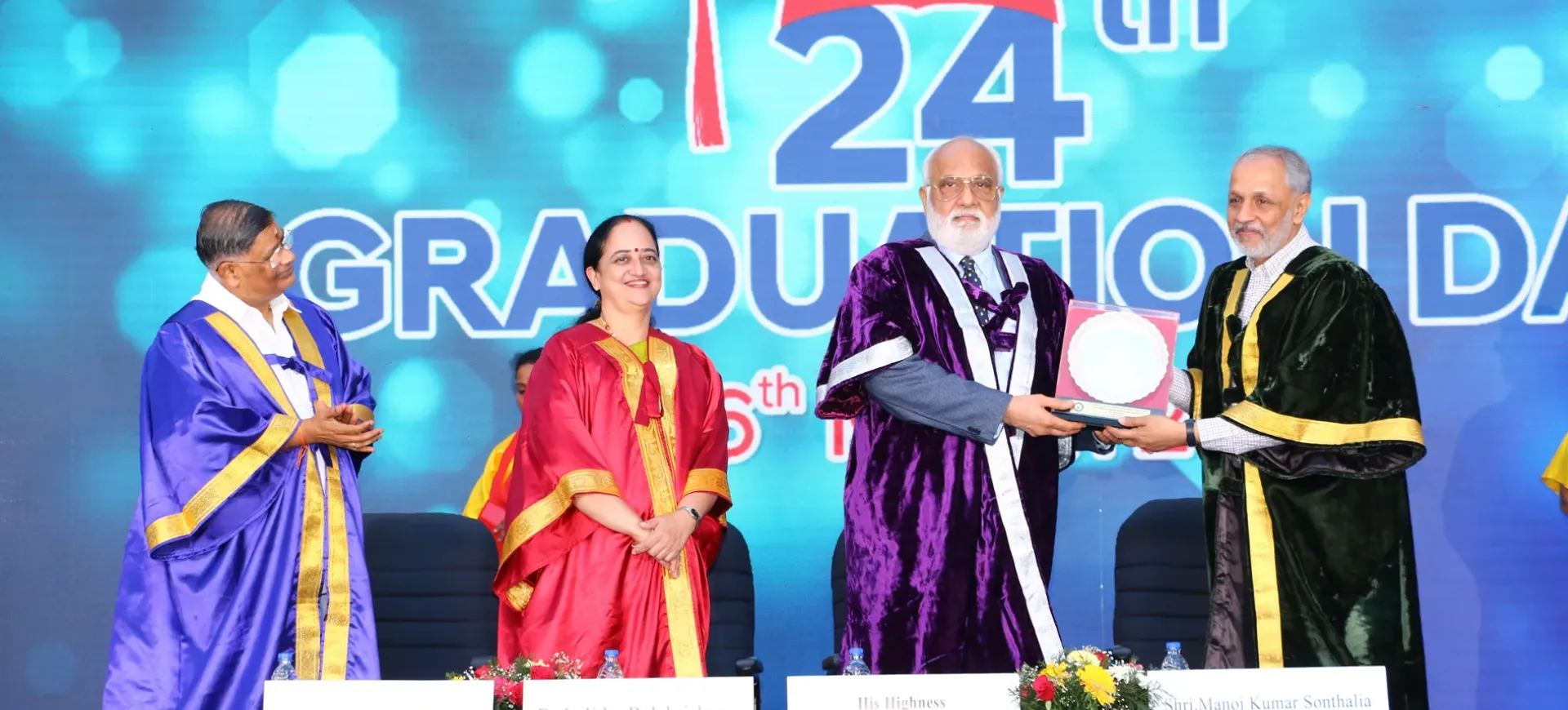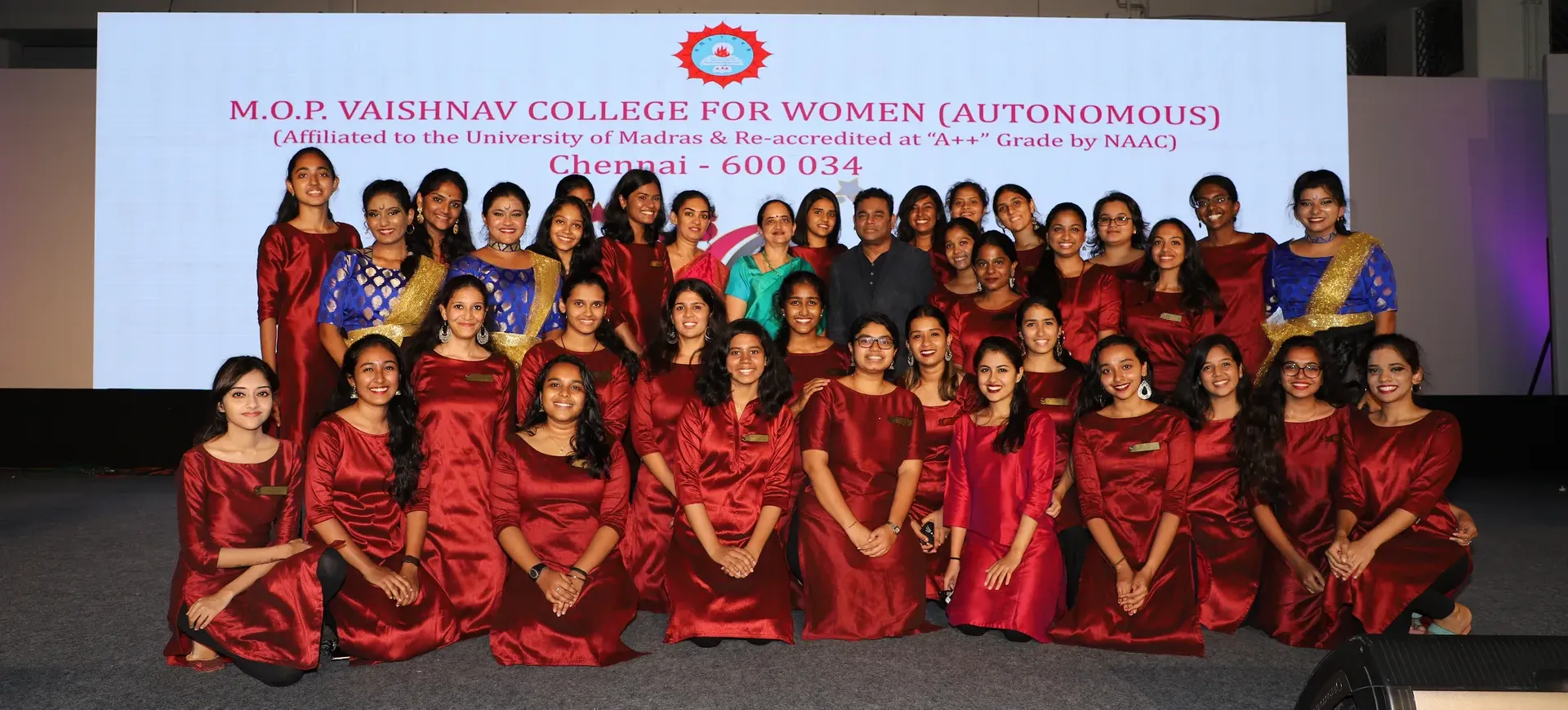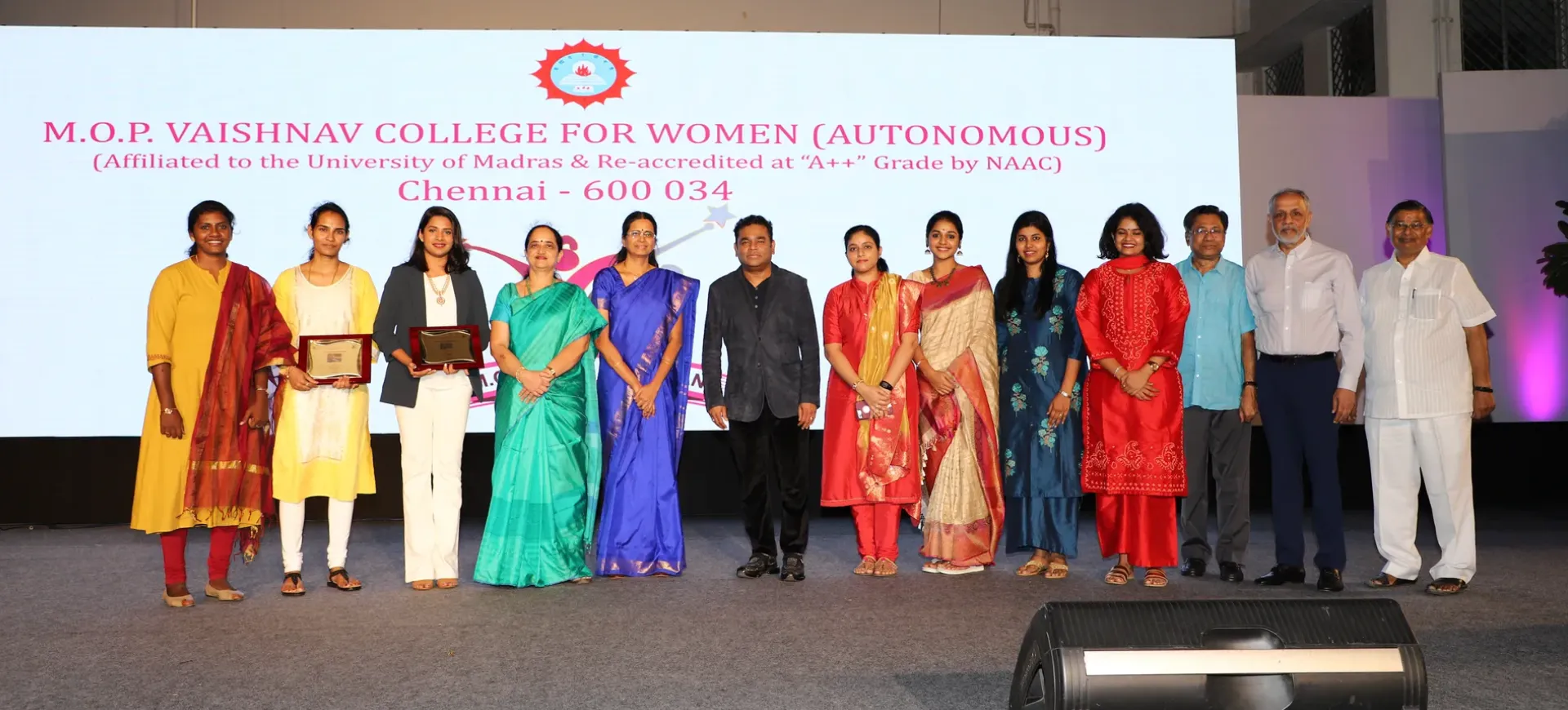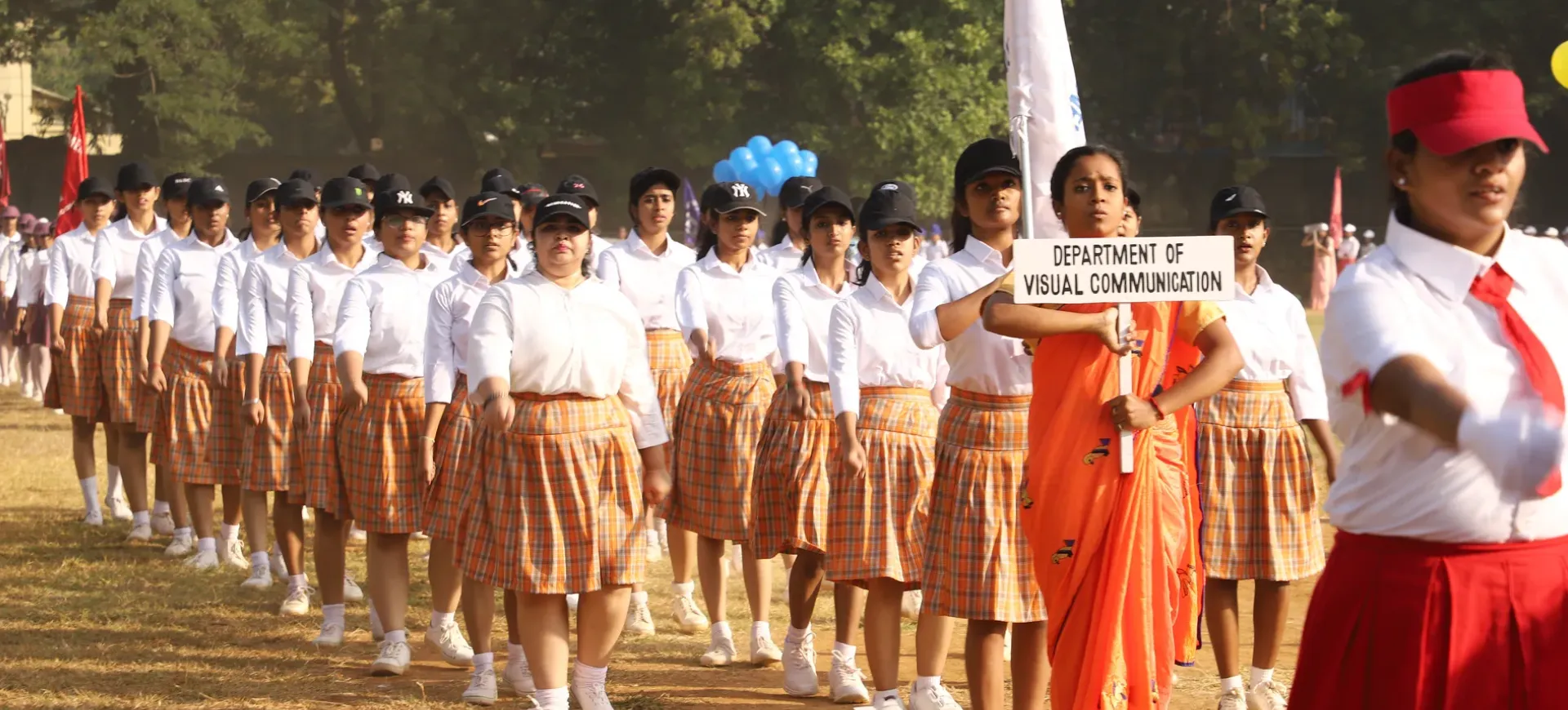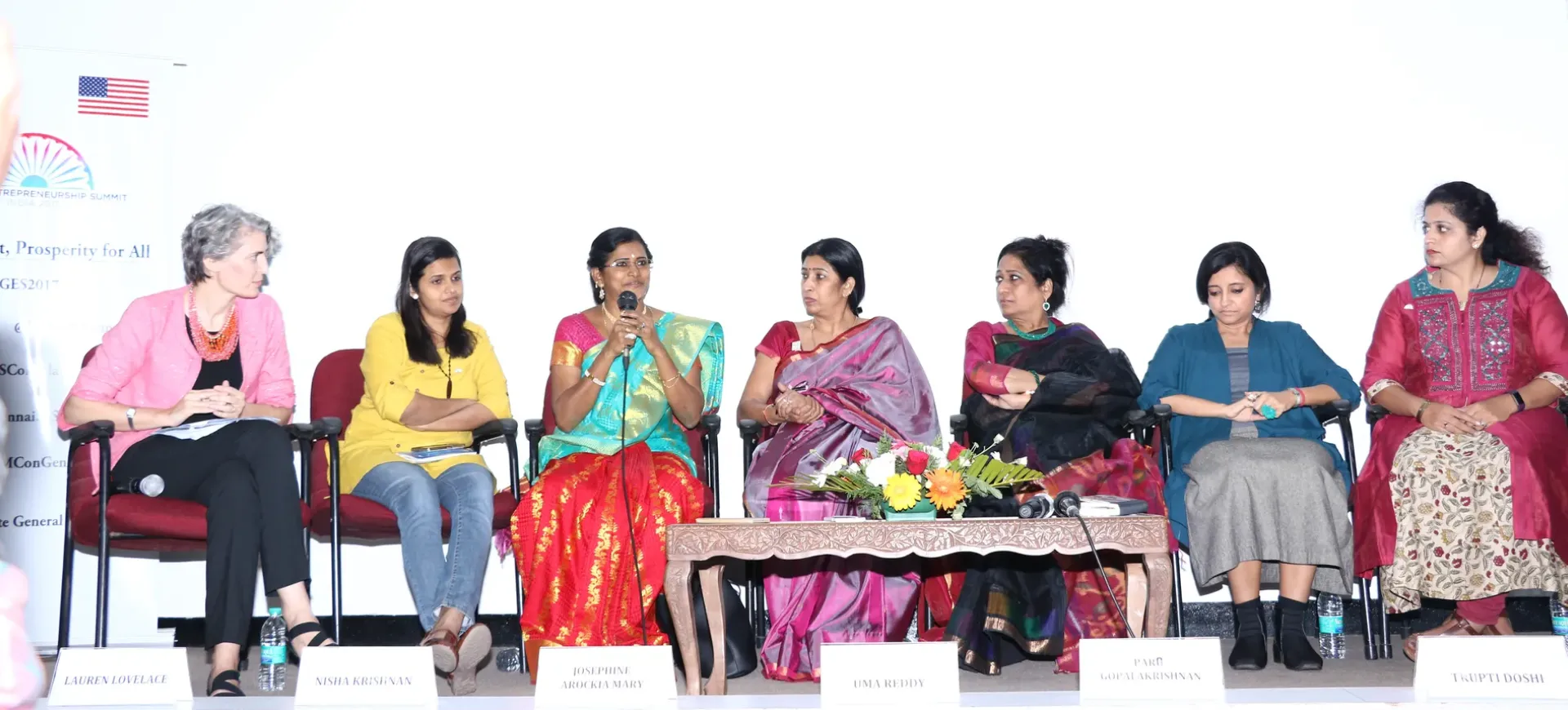 Welcome to M.O.P. Vaishnav College for Women
M.O.P. Vaishnav College for Women (Autonomous) is committed to the goals of attracting and supporting top calibre women students in the areas of higher education.
Why M.O.P?
Grooming leaders who are not only thorough professionals but also good human beings with values.
This is why we are consistently ranked
No.1
Vision
To evolve into a University of International repute.
Mission
To provide a unique learning experience which will enable the students to realize their innate potential and mould their overall personality.
Mission Goals
Promoting Academic Excellence
Developing Self- Reliant Individuals
Providing Career Opportunities and
Creating Socially Responsible Citizens

M.O.P. Yuva Sammaan is conferred upon young women achievers every year, in the categories of Entrepreneurship, Sports and Performing Arts. The winners are felicitated with a citation and a cash prize of Rs. 1 lakh each, at a glittering ceremony.
Wednesday ,
M.O.P. Vaishnav College
Tuesday ,
M.O.P. Vaishnav College
No event found!
1992 - 1994

1992 - 1995

1994 - 1999

1998

2001

2002

2002

2003

2003 - 2004

2004

2004

2004

2005

2005

2008

2008

2009

2010

2011

2014

2015

2015

2016

2016

2016

2016

2017

2017

2018

2018

2019

2019

2020

2021

2021
B.Com, B.B.A, B.Sc Mathematics

B.B.A -2, B.Sc. Maths-1, Hindi-10
University First Ranks
1995 to 2002 – 29

1994: B.Sc. Computer Science, 1996: B.A. Sociology, 1996: B.Sc. Nutrition, 1999: B.Sc. Visual Communication, 1999: BCA
Newpost graduate Courses
1995: M.B.A, 1997: M.A. Communication

Ten years of M.O.P
Permanent Affiliation with University of Madras

Awarded Four Star Status with 'A' Grade

B.A. Journalism
New Postgraduate Course
M.Sc. Information Technology

IDE, NME, Skill Courses Introduced

Granted autonomy by UGC and University of Madras

Upgradation to Research Department of Commerce

B.Com Marketing Management

Awarded 'A' grade with 3.51 CGPA on a 4 point scale

Athletic Silver in SAF Athletic Meet

Awarded 'A' grade with 3.56 CGPA on a 4 point scale

B.B.A.
New Postgraduate Courses
M.Com, M.A. HRM

Run for the Girl Child Education

Self Learning Programmes
International Internships & Summer Courses
"Felt younger and better informed after talking to the young and bright minds of M.O.P Vaishnav College!"
Mr. Prabhu Chawla
Editorial Director, The New Indian Express
"A wonderfully organized sports festival and M.O.P is doing a great job in the field of sports. Their performance is found to be very high and contributing to the Nation's pride in sports"
Dr. M Ramasubramani
IPS Inspector General of Police Railways
"Thanks to the wonderful faculty and students of M.O.P for putting on such a fantastic Digital Media Summit. I'm so excited to have been a part of it. Such a huge honor, Thanks again"
Ms. Ariel H Pollock
Public Affairs Officer, U.S Consulate General
"It is always a pleasure and pride to visit M.O.P Vaishnav College for Women because of its high quality teaching- learning with replicable models of best practices. My best wishes"
Dr. S.P Thyagarajan
Chancellor, Avinashilingam Institute for Home Science and Higher Education for Women
"This has been such a meaningful learning experience. Such well-planned sessions and such excellent speakers. I have my head spinning with ideas and feel so motivated! Tremendous organization skills of Principal, faculty and students"
Dr. Swati Pal
Principal, Dr. Janaki Devi Memorial College, New Delhi
"It is indeed a great honor visiting this eminent college. My commendation to all NCC cadets who have made it big. Here's wishing the college and the NCC all the very best"
Dr. Utham Kumar Jamadagni
Director (i/c) University Students Advisory Bureau, Professor & Head, Department of Defense and Strategic Studies- University of Madras
"I am privileged to be the Chief Guest at this year's Sports Day. It has been very encouraging to be in an institution that encourages sports and has facilitated champions to be where they are today! God Bless you, M.O.P.V.C. Best Regards"
Mr. PWC Davidar
IAS (Retired Additional Secretary, Govt. of Tamil Nadu)
"Amazingly planned events and great learning for us as well. I hope to be a part of more such sessions and opportunities, Thank You."
Ms. Anisha Nichani
Founder, Svacch