Education goes beyond classroom learning, or even beyond conscious learning in fact. Much of what we learn that helps us grow and evolve, that brings out the artist or writer or connoisseur in us, happens when we are least aware of the fact that we are learning. Indeed, this unconscious learning is more powerful even than the most planned of pedagogical processes, and expert educators understand and tap into it to help their students evolve and grow holistically into well-informed and culturally refined individuals.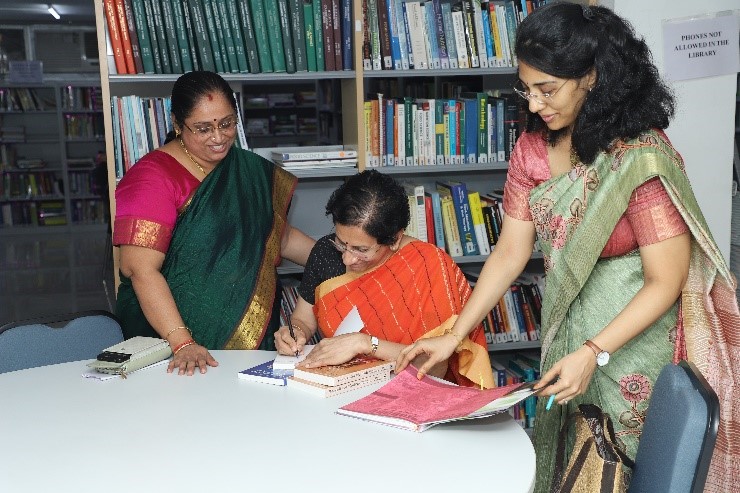 Art and cultural heritage serve as the vibrant tapestry of our shared human experience, and their importance in personal development, particularly for young adults, is keenly felt. In a world fuelled by disruption and rapid digital advancements, nurturing an appreciation for art and heritage becomes a cornerstone of individual refinement. This sense of appreciation offers a unique lens through which young minds can explore diverse perspectives with curiosity, empathy, and creativity. Art and literature foster self-expression, while cultural heritage connects them to their roots, instilling a sense of identity and belonging.
Dr. Chithra Madhavan, eminent historian and writer, is a narrator par excellence. Her riveting account of South Indian temple architecture and styles hold audiences spellbound, and the gathering of students at M.O.P. Vaishnav College for Women on September 8, 2023, was no exception to this. Dr. Madhavan was the speaker at the inaugural session of the student book club, Pegasus – a joint initiative by the Department of English and the institutional Library – which, in association with the New Indian Express, has curated a series of Author Speak events towards creating a platform where eminent writers, artists and historians share their expertise with students.
With a profound passion for unravelling the mysteries and magnificence of South Indian temple architecture, Dr. Chithra Madhavan enthralled the students with captivating insights into architectural styles ranging from the majestic Mahabalipuram shore temples to the exquisite marvels of Lepakshi, and from the cave temples of Badami to the imposing Sun Temple of Konark.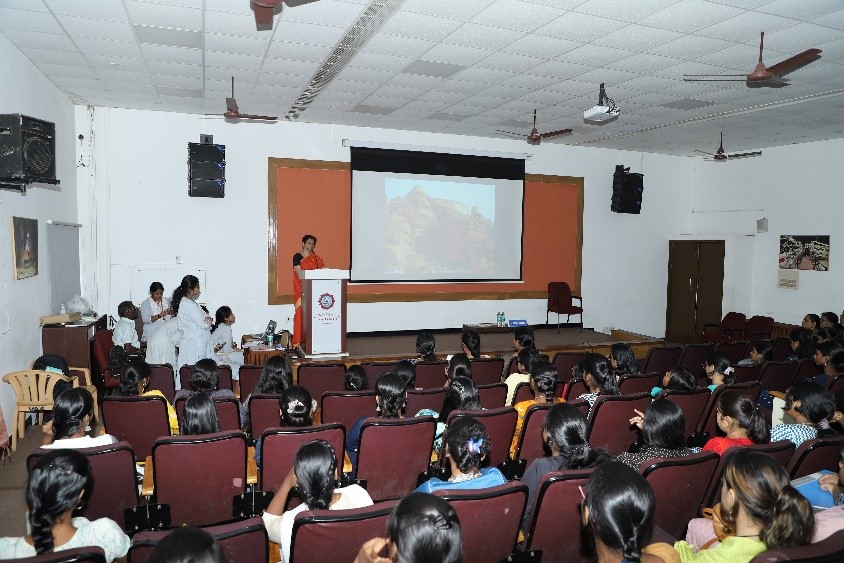 The Mahabalipuram shore temples are a UNESCO World Heritage Site, and for good reason. They are a testament to the genius of the Pallava dynasty that ruled the region during the 7th and 8th centuries. Dr. Chithra Madhavan eloquently explained how these temples are renowned for their rock-cut architecture, where entire temples were carved from single monolithic stones.
From Mahabalipuram to the magnificent temples built by the formidable Chola empire – inspiration for countless historical and fictional tales of chivalry and grandeur and featured most recently in Mani Rathinam's Ponniyin Selvan, adapted from Kalki's famous work by the same name – to the Veerabhadra temple at Lepakshi and to the wonders of Hampi, Dr. Madhavan took the audience back in time with her riveting narrative. The event concluded with an interactive Q&A session, with students eagerly engaging with the eminent historian on various aspects of temple architecture and preservation of cultural heritage. After the Author Speak, Dr. Chithra Madhavan also graciously participated in a book signing at the institutional library, which allows the college to offer personalized copies of her works for interested readers.
A truly enriching educational experience extends beyond the classroom. Good educational institutions understand that nurturing well-rounded individuals goes beyond pedagogy alone. By incorporating events focused on cultural heritage, art, and literature into their curricula, these institutions sow the seeds of profound personal growth. M.O.P. Vaishnav College is such an institution, that focuses both on empowering students with academic expertise and professional skills, and also on facilitating a deeper appreciation of fine arts, literature, and heritage. In doing so, the institution equips its students not only with degrees but also helps them connect with a deep well of wisdom, empathy, and creativity within, ensuring that these young minds evolve into individuals who can shape a brighter, more culturally rich future for themselves as individuals as well as the world as a global collective.